Career Counseling In Pakistan
In a rapidly evolving world, making informed career decisions is more crucial than ever. Moreover, in a diverse and dynamic country like Pakistan, where opportunities abound, navigating the path to your dream career can be both exciting and challenging.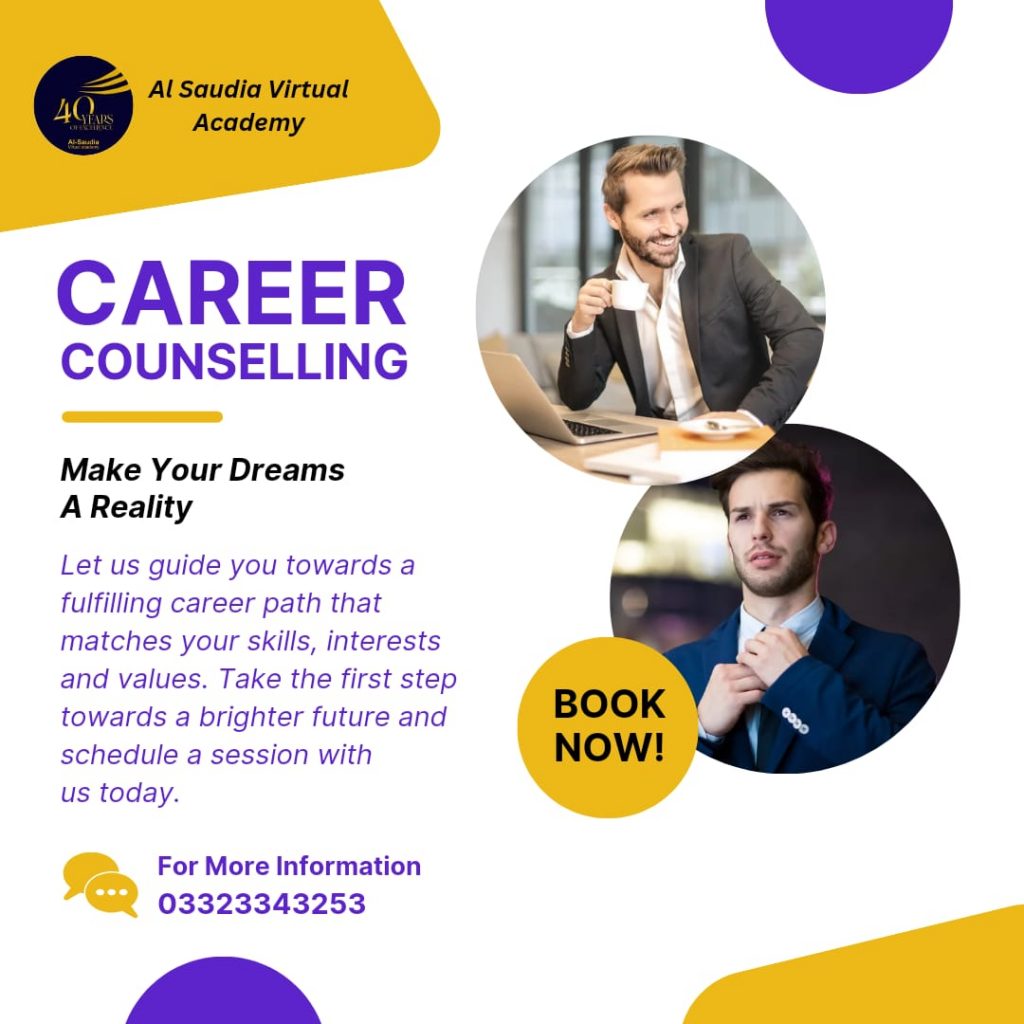 At Al Saudia Virtual Academy – Career Counseling, we understand that your career journey is a unique adventure. Firstly, our team of experienced career counselors is dedicated to helping you explore and chart a course towards a fulfilling profession.
Furthermore, our comprehensive career counseling services in Pakistan encompass a wide range of offerings, tailored to meet your specific needs. Whether you're a recent graduate embarking on your professional journey or an experienced professional considering a career shift, our expert guidance can make a significant difference.
Our Approach: Personalized and Result-Driven
At Al Saudia Virtual Academy – Career Counseling, we don't believe in one-size-fits-all solutions. Instead, we adopt a personalized approach, taking into account your skills, aspirations, and the ever-changing job market in Pakistan.
To begin your journey with us, simply schedule a consultation with one of our career experts. During this initial meeting, we'll discuss your goals, strengths, and areas of improvement. Subsequently, we'll work together to develop a roadmap that aligns with your career objectives.
Empowering You for Success
Our mission is not only to provide guidance but also to empower you with the tools and knowledge needed to excel in your chosen career path. Consequently, our services include skill assessments, interview preparation, resume building, and networking strategies.
Moreover, our commitment to your success extends beyond the counseling session. Through our ongoing support, you'll gain the confidence and skills necessary to make informed decisions throughout your career.
Join Us on Your Career Odyssey
At Al Saudia Virtual Academy – Career Counseling, we're here to partner with you on your career odyssey in Pakistan. In conclusion, with our expertise and dedication, you can unlock your full potential and embark on a fulfilling and successful professional journey.
Contact us today to schedule your consultation and take the first step toward a brighter future.
skype id: ascc576
contact: +923323343253
Note: For other subject tuitions Visit Our Blog